Aghosh
Jump to navigation
Jump to search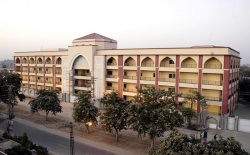 1- Introduction
Minhaj Welfare Foundation is an international welfare organization, which is engaged in spearheading hundreds of welfare-oriented projects for the suffering humanity in the social and economic domains. Along with these projects, Minhaj Welfare Foundation (MWF) has launched an institution in the name of Aghosh, which is orphan care home. This institution caters to the educational, mental, psychological, spiritual and economic needs of the orphan. The purpose of this institution is to turn the under-privileged orphan into useful and honourable citizens of the country.
2- Aims & Objectives
The objectives of Aghosh are to provide shelter and good education to orphan, ensure their safe future and to turn them into socially productive human beings. We aim to establish an institution, which has the capacity to provide for 500 children.
3- Pilot Project
Minhaj Welfare Foundation has laid the foundation stone of pilot project of this prestigious plan under the patronage of Shaykh-ul-Islam Dr Muhammad Tahir-ul-Qadri. Children presently staying in the Aghosh also include those from the earthquake-hit areas of Pakistan as well as orphan children from across Pakistan. The facilities provided for the children at Aghosh are of the same standard as are normally available to the children of high middle class of Pakistan. Efforts are being made to further improve their living standard.
4- Location
This pilot project of Aghosh, which is situated near Jamia-al-Minhaj on the Shah Jillani Road, in the Township area of Lahore.
5- Internal Atmosphere
The internal atmosphere of Aghosh, unlike that of other traditional welfare institutions, is very pleasant, disciplined and home-like. Teachers show fatherly treatment towards children in their interaction and do not let them feel any deprivation. That is why children not only bring all their matters to the notice of their teachers without any hesitation, they also remain eager to set necessary guidance for them. An observation of the internal atmosphere of Aghosh is sufficient to make one conclude that this is such a home where residents are living their life in a meaningful manner without any worry and problem. This uniqueness and beauty of the internal atmosphere of Aghosh not only distinguishes it from the rest of institutions but is also reflective of bright future.
6- Educational Activities
The educational activities of the institution are of great importance. All children are imparted Hifz-e-Quran and school education according to their capacity and temperament. A look at the educational activities being undertaken at Aghosh can be sufficient to gauge its standard.
Hifz-e-Quran
After the completion of primary education, children are admitted to Tehfeez-ul-Quran Institution for Hifz-e-Quran in accordance with their potential and taste where they memorize the Holy Quran along with other children.
Schooling
Along with Hifz-e-Quran, children are also admitted to Minhaj Model School for getting modern contemporary education. The children get exposed to English, Urdu, Arabic and Scientific subjects according to prevalent syllabus.
Extra Coaching
All the children in the world need individual attention for the solution of their educational and psychological problems and polishing their personality. Arrangements for the availability of able tutors have been made to meet this need of children, who solve their educational and psychological problems through individual attention.
8- Recreational activities
Recreation is necessary for the mental and spiritual growth of children along with their formal education. Aghosh has made different recreational activities the part of its educational activities throughout the year in order to ensure the recreation.
Children are taken to Sky Land, Joy Land and other recreational spots on monthly basis.
Children are also taken to visit various museums, Wagha borders and other historic places as a part of educational recreation.
The participation of children in the daily games between Asr and Maghrib prayers is ensured to keep them fit and physically healthy. The weekly sports competitions are also very helpful for this purpose.
Children also participate in the various spiritual gatherings and programmes of Minhaj-ul-Quran International keeping in view their spiritual requirements so that they are able to become good Muslims through their exposure to actual teachings of Islam.
9- Food, Clothes and Health
The provision of sufficient and balanced diet for the children is part of the basic priorities of Aghosh. The menu of meals has been set in a manner that they are able to get sufficient amount of energy from food for their day-long physical activities. Fruit, milk and other eating stuff like ice cream, juice and biscuits are part of their diet plan.
New dresses are made for children according to the seasonal demands and other religious occasions.
The provision of food and clothes is solely the responsibility of the Aghosh.
First Aid is available in case of any health problem. However, the services of qualified and certified doctors are hired for complete medical treatment. Special care of children is taken during illness.
10- Other prominent characteristics
Some of the chief characteristics of Aghosh are given here below:
Residential facilities of highest standards are available for children. Every child has his individual bed, study table, study chair and cupboard.
Computers are also available for the recreation and education use of children.
There is a highly furnished dining room having TV, Freezer and other facilities.
Library has also been set up for the satisfaction of reading needs of the children.
Special attention is paid on individual and collective training of children.
A course of action has been worked out to create such qualities as brotherhood, honesty, sacrifice and piety.
11- Permanent building of Aghosh
The pilot project of Aghosh has been launched in an already constructed building. At the same time, purpose-oriented building is being constructed for Aghosh. Its maps have been drawn and the services of a renowned architecture have been hired for the construction of this building. This building will have activity and sports halls, library, mess hall, fully furnished residential rooms in addition to school. The total area of the building will be 1 lakh and 25 thousand square and the construction cost is estimated to be more than 150 million rupees.
12- Construction of Aghosh
Resourceful people are hereby appealed for cooperation in this regard so that this project can be successful. It is possible for you to finance the construction of a block, room and floor of this project for earning reward for your parents, elders and other near and dear ones in the world hereafter. Feel free to contact us for further details.
13- Sponsoring for children
The option of Sponsoring for children is also available. You can sponsor any helpless, deprived and orphan child at least for one year or till the completion of his education. Please contact us for further details.
Aghosh is the ideal institution, which occupies unique position for the provision of training and education of the orphan less privileged children of society.