Views: Muhammad Mian Soomro
From Minhaj Encyclopedia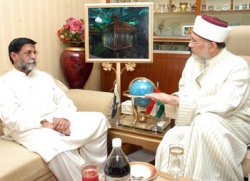 On June 26,
2008
, the Chairman Senate, Muhammadmian Soomoro, held a meeting with Shaykh-ul-Islam Dr Muhammad Tahir-ul-Qadri at his residence in model town. He exchanged views of mutual interest with
Shaykh-ul-Islam
and congratulated him on the marriage of his son, Sahibzada Hussain Mohi-ud-Din Qadri. Talking to the media after the meeting, the Chairman Senate said the services of Dr Muhammad Tahir-ul-Qadri in educational, social, religious, political and welfare domains were praiseworthy. Shaykh-ul-Islam Dr Muhammad
Tahir-ul-Qadri
has accomplished unmatchable and historic feat in reconciling Islam with modern-day demands and reviving the faith. He has struggled to prove that Islam is a religion of peace through his religious preaching. No doubt Dr Muhammad Tahir-ul-Qadri is man of peace, harmony and human development at the global level.