Minhaj Internet Bureau
Jump to navigation
Jump to search
Minhaj Internet Bureau is responsible for designing and developing websites of MQI. It has so far created more than 50 websites. The list is given here.
Objects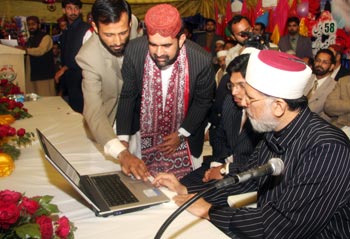 Minhaj-ul-Quran International is working on sound footings for propagation of Islamic teachings at a wider level and protection of faith of the young generations along scientific lines. In order to achieve this purpose, all the offices located within the central secretariat of MQI have been connected to one another through a state of the art computer network aimed at enabling them to benefit from the modern information technology on the one hand. Minhaj Internet Bureau (MIB) was set up, on the other hand, with a view to addressing apprehensions, misperceptions and misunderstandings about Islam globally, promote real and original teachings of Islam and knit the diverse Muslim communities in a single unified whole.
MIB seeks to attain a leading role for MQI in the cyber world as promoter of interfaith dialogue, harmony and peace. The Bureau continues to work with utmost dedication to allay misperceptions about Islam by apprising the world about real Islamic teachings. Various websites, developed and published online by MIB, are the examples of the Bureau's work. These sites owned by MQI are found to be reliable and authentic source of information and hence grouped into leading category.
Historical background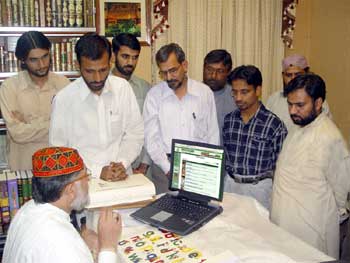 1994 to 1996 - The central organizational website of MQI namely www.minhaj.org emerged online under the supervision of Mudassar Islam (Holland) between 1994 and 96. It was the time when even the educated class was not much aware of internet and its usage.
1996 to 2003 - A self-contained department, meant to propagate and highlight the MQI's services and contributions in the realm of peace, interfaith harmony, dialogue and peaceful coexistence among various communities, came into being by the name of Minhaj Internet Bureau. Thus www.minhaj.org had the unique honour of being the first website officially launched by any organization in Pakistan.
2003 to date - MIB launched a new number of websites and kept on updating www.minhaj.org in accordance with the latest technological advances despite limited manpower and resources. These websites have immense new features and services for the web users. This initiative not only enabled people to familiarize themselves with the real Islamic teachings but also added hundreds of thousands of internet users on monthly basis, which is not less than an honour for any website.
Departments
Functions and tasks performed by MIB have been divided into a number of sub-sectors/departments for efficient service delivery and improved management and performance.
Department of Planning & Supervision
The planning and supervision of all projects of MIB is the responsibility of this department. Moreover, coordination with lower departments and distance volunteers falls within its domain. It also takes care of donation and advertisement related matters.
Department of Web Development
Development of all central websites takes place locally and all phases of programming are completed under the direction supervision of this department. Various softwares are also designed by this department in accordance with the needs of the Bureau. See the list of central website for more information.
Department of Web Designing
Designing of layouts of all websites and graphics is undertaken at this department. In addition to this, designing of various advertisements to be posted on social media is also carried out here.
Department of Web Updating
This department of MIB is responsible for regularly updating the following material on the main websites.
Irfan-ul-Quran English & Urdu [7]
Tilawat Quran Majeeed
Speeches by Shaykh-ul-islam [8]

MP3 Audio updates on deenislam.com
High Quality updates on YouTube, Vimeo and Dailymotion, etc.

Books by Shaykh-ul-Islam [9]

Images Format
Unicode Format
PDF Format
Department of Social Media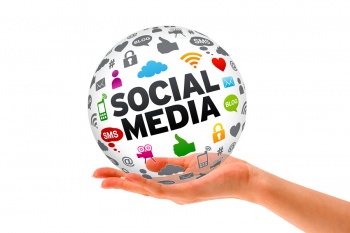 In addition to managing regular updates on official accounts of MQI and Shaykh-ul-Islam on all social media including Twitter [13] and Facebook [14], this department holds practical workshops for training of volunteers.
View the list of social media contacts for further information.
Department of Server Management
This department is responsible for backup and maintenance of domain accounts, hosting server, and email accounts.
Department of I.T Support
This department looks after the efficient working of hundreds of computer systems in various offices of central secretariat and is responsible for their installation, troubleshooting, networking and provision of internet. It also conducts training programmes for the staff from time to time to update their computing skills etc. It also provides technical support to Minhaj TV for arrangement of video conferencing and scholar online program.
College of Shariah and Islamic Sciences gets the technical assistance of this department for its eLearning program. The maintenance of photo archive is also responsibility of this department.
Staff
| | | |
| --- | --- | --- |
| Present staff members | Former contributors | Remote contributors |
| | | |
Step by Step
1994
1996
2001
2002
October 24, 2002 - AbdulSattar Minhajian (research scholar) got a shield from Dr Muhammad Tahir-ul-Qadri on quality designing of Minhaj books and monthly Minhaj-ul-Quran magazine.
2003
February 19, 2003 - Shaykh-ul-Islam Dr Muhammad Tahir-ul-Qadri inaugurated the first multimedia web site of MQI.
2004
October 28, 2004 - Minhaj photos web site was inaugurated by Shaykh-ul-Islam.
2006
2007
October 16, 2007 - MIB team was awarded a distinction shield in the Itikaf City due to excellent online coverage of MQI.
2008
September 4, 2008 - New Urdu web site of Directorate of Foreign Affairs was inaugurated.
2009
September 20, 2009 - The keynote addresses of Shaykh-ul-Islam Dr Muhammad Tahir-ul-Qadri were telecast live from Canada through video conferencing during Itikaf.
December 22, 2009 - ELearning department was established for online education of a number of courses including Irfan-ul-Quran course under the banner of COSIS.
2010
February 19, 2010 - New version of deenislam.com, multimedia web site of MQI, was launched equipped with new facilities.
2011
February 14, 2011 - New web site of elearning department was launched after addition of new facilities.
February 23, 2011 - The web site of world graduates of Al-Azhar University Pakistan was launched in Urdu, English and Arabic language simultaneously.
July 29, 2011 - New version of web site of Itikaf City was launched in Urdu and English languages simultaneously.
2012
January 19, 2012 - Mobile Urdu version of official web site of MQI was launched.
October 25, 2012 - A ceremony was held to celebrate the one hundred thousand hits of like option on the official face book page of Shaykh-ul-Islam.
2013
See More
References